I've been wanting to do it for a while... and I finally got around to it!
I made a new blog button! The one I used to have was the sparkly one with the lame stamp on the bottom advertising the website I used to make it... not very cool.
So - I'm proud to introduce the new blog button!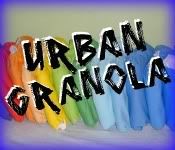 The widget to the left now lets you copy the HTML code for the new & improved button. Feel free to grab it and put it on your blog! (No seriously... please do. If you have my
old
button, I'm asking you pretty please with a cherry on top to
replace it with the new one
!)
Thanks!
~If you enjoyed this, don't miss any future posts! Please find a way to follow - options are over on the right side of the page. Don't forget you can also "like" the Urban Granola Facebook page, too! I'd love to see you back!~