So, I may or may not be a little bit obsessed with
JuJuBe
bags. And I'm also a sucker for a great deal.
I was browsing craigslist, and saw a post from a consignment store for a Blue Bouquet BeSmart for only $55! These bags retailed for $100 when brand new, and have since been discontinued. Depending on the condition, a used Smart typically sells for between $60-100 dollars (depending on how high in demand that certain print is) So I got a fantastic deal on it!
Front
Back (you can see part of the memory changing pad sticking out)
I drove 1 hour to this particular consignment shop just to buy this bag. And while I was there, I saw that they had other JJB bags! They had a Brown/Robin BeAll, and an Citrus Sorbet Packabe. Neither one interested me. But then I saw it... a little Perky Perennials BeMine peeking out at me from behind the All! Oh my goodness. I've never liked the pink prints, and I also never thought I'd wanted a Mine. But it was soooo cute. In was brand new with tags still on! And so of course I had to snatch it up! I paid $19 for it, which is a fantastic deal because somebody in the JuJuBe resale forums is currently selling theirs for $40!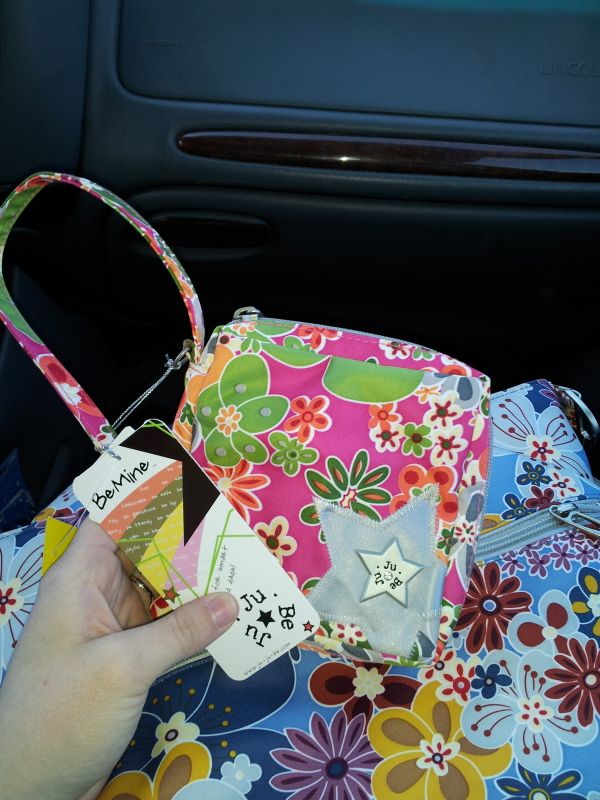 Front
Back - love this print placement!
I went expecting to buy 1 bag, and instead bought 2! Three days ago, I didn't think I liked the Blue Bouquet or Perky prints, and I didn't have a desire to own a Smart of Mine. But both of them were fantastic deals, and in great condition. I don't think I'll have any difficulty falling in love!
~If you enjoyed this, don't miss any future posts! Please find a way to follow - options are over on the right side of the page. Don't forget you can also "like" the Urban Granola Facebook page, too! I'd love to see you back!~